Karma Corner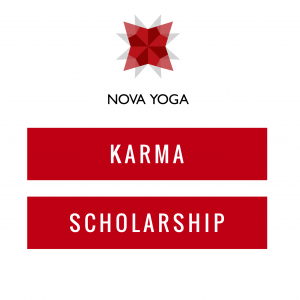 At Nova Yoga we believe that yoga should be accessible to everyone, regardless of their financial circumstances. We are so pleased to announce the launch of our Karma Scholarship starting September 2017. Each month, from September to December, we will be awarding a 4 Class Pass to a randomly selected applicant who has applied for assistance through our Karma Scholarship program. This incentive will help to serve our broader effort to create an inclusive yoga community that allows the teachings, practice, and incredible benefits of yoga to be accessible to everyone.
To apply for our Karma Scholarship please CLICK HERE.
____________________________________________________________________________
NOVA YOGA IS PROUD TO GIVE BACK!
We are so pleased that we are able to give back and support the community, in a number of ways, each and every year!
Here are the organizations we have supported since our studio began:
-St. John's SPCA
-Beagle Paws
-Heavenly Creatures
-Canadian Red Cross
-Fort McMurray SPCA
-Iris Kirby House
-Nature Conservancy of Canada
-Community Food Bank
-Kids Eat Smart
-Perchance Theatre
-Girls Rock Camp NL
-Kidney Foundation
-Smiles for Miles
-Beaconsfield High School
-Planned Parenthood
-Syrian Refugee Yoga Fundraiser
-Syrian Refugee Campaign
-Bring Syria to NL
-Diabetes Clothesline
-NL Sexual Assault and Crisis Prevention Centre
-Riddlefence
-Suicide Prevention Auction
-The Children's Centre
-East Coast Trail Association
-Trinity Historical Society
-The St. John's Womens Society
If you would like to be considered for a donation please email novayogaoffice@gmail.com; please note that we receive a number of emails on a weekly basis and, unfortunately, we are not able honor all requests.