France 2017
Feed Your Soul In France!
Chateau de Bardouly
Dordogne, France
September 30-October 7, 2017
Join Melanie for an incredible yoga retreat in the glorious south of France!  Enjoy a splendid balance of nourishing meditation, yummy yoga, and delicious food and wine during your week-long stay in a gorgeous 17th century chateau.  Roam the countryside, explore historic castles, shop local markets, and lounge by the heated pool – you know it's EXACTLY what your soul needs.

Bardouly was built in the reign of Henry IV and is situated halfway up a limestone hill above the Dropt River. This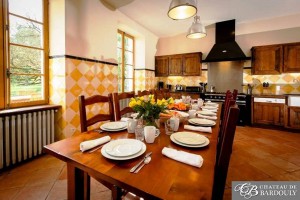 Perigordian Chateau brims with the charm and nobility of its 400 years of existence. The house maintains its original features including a panelled dining room that was installed by the same artisan that completed the state rooms at Versailles. Michel de Montaigne's historic estate is nearby and is the place where he wrote extensively about the area and other topics in his famous 'Essays'. Many illustrious visitors spent time at Bardouly throughout the 20th century such as Charles de Gaulle and John D Rockefeller.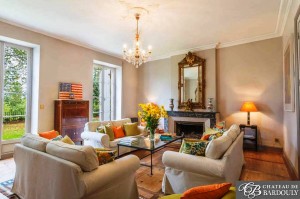 The house brims with antiques but maintains the atmosphere of a comfortable family home. Enjoy the absolute privacy in the meticulously maintained house and park. The estate includes a heated swimming pool and hard surface tennis court as well as a lake surrounded by ancient oaks. Hike through the close to 100 acres of exquisite wooded hills and fields. See our activities pages for the plethora of sporting and cultural past times and excursions that abound at Bardouly and the immediate vicinity.