In the News
Nova Yoga Wins Award!
I received the 2012 Start Up Business of the Year Award from NLOWE (Newfoundland and Labrador Organization of Women Entrepreneurs) during a special gala held on November 1.  Here are some photos from the event!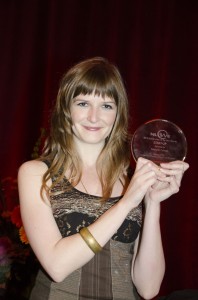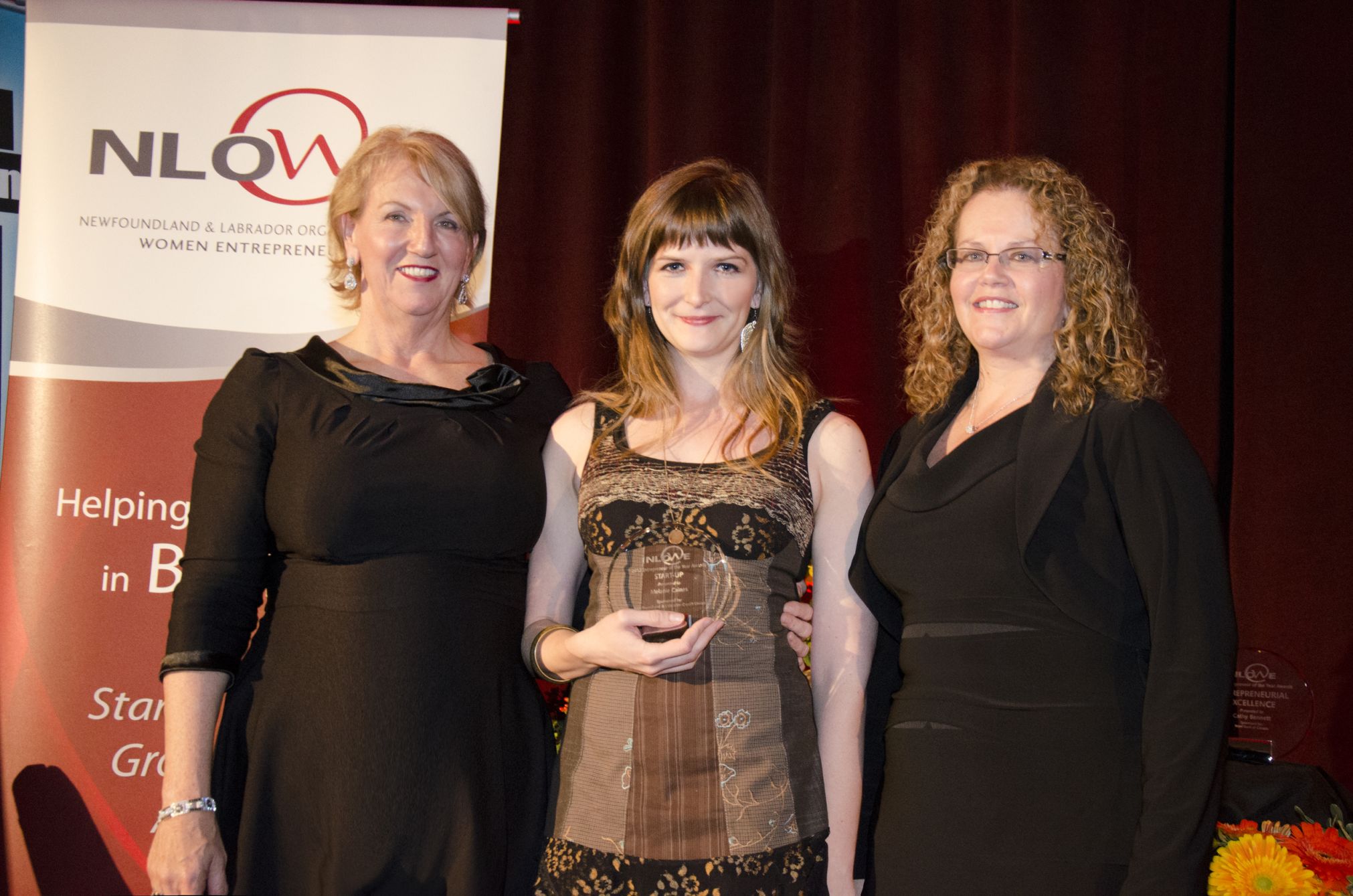 _____________________________
The Nova Yoga Show on Rogers Cable!
______________________________
Caines takes on new role
Melanie Caines of Corner Brook has made the switch to yoga instructor after a successful stint on stage.
Here she is seen practising her technique.
THE WESTERN STAR
by Jamie Bennett
Published on October 18, 2012

Local actress embracing life as yoga instructor in St. John's
Topics: Gros Morne Theatre , CORNER BROOK , New York , Los Angeles
CORNER BROOK — Having spent much of her 20s in a blur of dressing rooms and stages the world over, Melanie Caines is finally learning the value of stillness.
An actress who graduated from Grenfell Campus, Memorial University's theatre program in 2003, Caines performed over 400 shows with the successful production Tempting Providence between 2002 and 2009. She also spend nine summers working with the Gros Morne Theatre Festival in Cow Head.
But it wasn't until discovering yoga that she took the time to catch her breath; to learn to harness her breathing in order to bring stillness to her mind and body.
Like beginners, Caines came to yoga as means to exercise. But as owner/operator of the recently opened Nova Yoga in St. John's and host of the half hour instructional program the Nova Yoga Show, — which airs Saturdays and Sundays at 12:30 p.m. on Rogers TV— she's now helping spread the word that there's much more to the discipline than simply stretching and contorting one's body.
She offers a variety of classes at her studio, from those which include meditation and specific postures designed to improve mobility, to those which help detox the mind and body through twisting and compression to rid one's internal organs of toxins.
The classes typically follow the traditions of vinyasa yoga in which the movements and breathing are linked so that the postures flow into one another.
"It's just been a great healthy shift for me and it's really changed how I feel and live," Caines said in a recent interview from St. John's. "It's a way to live with kindness and compassion; a way to give back to yourself … that's why I feel so passionate about sharing it."
She has studied with yoga masters in New York and Los Angeles, where she works with world renowned prana flow founder Shiva Rea. These regular visits have served as inspiration, fueling her passion to pass on what she's learned.
She received her yoga teacher training at Sonic Yoga in New York in 2008. She also offers free online yoga videos on her YouTube channel at www.youtube.com/user/melaniecaines as well.
To her, the most rewarding aspect of teaching and of hosting the instructional show is the chance to help her students do extraordinary things with themselves and their bodies.
"I see the impact it has on them from the moment they walk in at 5:30 and the difference when they leave at 6:45," she said. "To have someone say 'I haven't slept this well in two years' or 'This is the most mobility I've had in my shoulder since the accident' … it feels incredibly fulfilling."
While devoted to her studio, Caines has also remained active as an actress in film and on television. She has worked for four years as a voice actress on the "Republic of Doyle" and played lawyer Neve Carmichael in an episode last season.
She also appeared in an upcoming Liz Solo-directed short film "The Machine" and has a part in Martine Blue's film "Desperate Scribbles," which is running at the St. John's International Women's Film Festival.
She said yoga has given her more focus through breathing and meditation, something she believes has made her a better actress.
"When you are acting, a lot of times you can push ahead and anticipate responses," she said. "So the ability to live in the moment and to react to what the other character is saying, that's pure present moment awareness."
As someone who has embraced yoga as a lifelong learning tool for everyone, she said the biggest challenge is fitting the practice in to one's increasing busy schedule.
"The hardest thing is getting on your mat, and that applies to me as well," she said. "There's always that sink-full of dishes or that phone call but the moment you make the time and sit down … you realize this is where I need to be and I have to carve this time out for myself."
For more information, visit www.novayogaonline.com and to view a schedule for the Nova Yoga show follow the links at www.rogerstv.com
______________________________
Music fuels yoga master's muse
Melanie Caines stretches the boundaries
Topics : CBC , Los Angeles , New York , Corner Brook
Yoga and gypsy jazz music — not two things you'd necessarily think of putting together, unless you're Melanie Caines. She says it works, and the 15,000 or so students who've passed through her doors over the past two years might agree.
Caines is the owner, operator and sole teacher at Nova Yoga on Long's Hill in St. John's, where she teaches Vinyasa (Flow) yoga, she says, infused with spirit, laughter, creativity, and a bit of sweat.
This often includes live music yoga classes, during which a local musician performs while participants practise their poses. It's a concept Caines learned in Los Angeles while studying with world-renowned teacher Shiva Rea.
"She has a background in dance and is interested in finding the internal pulse, combining music with moving and breathing," Caines explained. "She always has live music, and it's amazing to be surrounded by that."
Caines put out a call to MusicNL members for musicians who might be interested in performing in her studio, and received an overwhelming response. She has to be a little picky about who she hires, however, since they have to be able to improvise quickly, changing their tone or tempo if the class requires it. Participating musicians have so far including Duane Andrews, Ian Foster, Rozalind MacPhail and DJ Slim Macho. All have been solo acts, but Caines is hoping to have some collaborative performances in the future.
"Ian Foster is a singer/songwriter, but he came in with an electric guitar, a looping system and a keyboard and created a very beautiful atmosphere," Caines said. "It was perfect for a very grounding, earthy class. With Duane Andrews, I'd do something bouncier and lighter.
"I tell them the outline of the class, but they don't know what I'm going to do and I don't know what they're going to play. I like that creation aspect of it."
Caines, also an actor who's been featured on Robert Chafe's play "Afterimage" and CBC's "Republic of Doyle," developed an interest in yoga after searching for a bit of brightening up during what she said was a dark time in her life. She has trained in New York and Los Angeles and opened Nova Yoga in January 2010, after recognizing a niche in the community.
Caines, a native of Corner Brook, credits an increasing local interest in yoga to a general lifestyle that has become more sedentary.
"As a population, we spend a lot of time being still, while driving, sitting, or lying down in bed," she said. "For some people, even coming in after work and being able to stretch their arms can be great. Personally, I like that yoga is not just about the physical, but the spiritual and mental, too. It makes me feel good all-round. Sometimes I'll come in and do 20 minutes of physical work, or sometimes I'll just lie down on the mat and meditate."
The benefits of yoga aren't limited to the physical, Caines said. While it has been proven to increase flexibility, boost the immune system, strengthen and tone the body and improve balance as well as detoxify and cleanse — thanks to twists and poses that "wring out" the organs — experts say it can also improve focus and concentration, build energy and release stress.
Vinyasa yoga is about connecting movements and breathing, Caines explained, and can be gentle and slow or cardiovascular and sweaty, depending on the class. Anyone can participate — not just those who are particularly agile.
"People don't even have to know how to sit down with their legs crossed," she said, adding she's even taught toddlers. "Some people want to breathe, relax and take it slow, while others want to climb the walls. It's for everybody, you just choose what works for you at that time of your life, or that time of your day, no matter what your age or abilities."
Caines has noticed that men seem more reluctant to try yoga, often calling to ask her if they'll be the only man in the class. Once they discover the challenges involved, they're often more willing to try it. About a quarter of her current students are men.
As well as her unique live music classes, Caines has created a 30-day yoga challenge, in which she challenges students to take 21 classes within one month, based on the theory that it takes 21 days to create a habit. She's also created the "Feel-Good Friday" video series on YouTube for practising yoga at home, and has followers countrywide.
Caines has raised about $1,600 for local animal charities in the past few months with her Karma (Donation) Yoga Classes, for which participants are asked to make a monetary donation of their choice instead of paying a class fee. She holds the special classes during the last Friday of every month.
She's intending to develop new classes in the coming months, including some very specific ones tailored to certain athletes: special yoga classes geared toward runners and golfers are on her list, and she's been asked to develop classes for swimmers and rock climbers.
"It's really satisfying to be able to share it," she said. "I'm an actor and I'm passionate about that, but what yoga feeds in me is that ability to share and give. To see someone's face when they're able to do a pose that they weren't able to do the week before is amazing. I sleep well at night and it feels good to know what I've helped people reach through yoga."
tbradbury@thetelegram.com
Twitter: @tara_bradbury
______________________________
thegreenrock.ca
______________________________
Back in December, when the days were at their shortest and the nights as cold as the depths of winter, I decided it was high time I give yoga a shot. I'd tried it halfheartedly once before, years ago, but this time I was determined to really take it on. After doing the one week trial pass at Nova Yoga, I decided to put my money where my yoga mat was and bought the 18 class pass.
I'm not a gym kinda guy, and with a pretty hectic work schedule I can't commit to most sports. Nova Yoga offers multiple classes per day, six days of the week, so it's been easy for me to find a class that fits with my on-the-fly schedule.
It's been nearly two months, and I'm not sure how many classes, but I've really taken to this yoga thing. I think it's because of yoga's tendency to exercise both the body and the mind. Some of my best ideas come to me when I'm supine on my mat, sweat dripping from my brow. And I love that feeling of having had my ass kicked, but, like, by someone who really cares about you, at the end of a solid class.
It helps, too, that Melanie Caines is such a gifted and devoted instructor. Her energy is always so strong and giving, like she's making an individual connection with everyone in the room. She listens to her class, literally asking questions about how they're feeling and what they want from their session, and translates that into a steady stream of flowing yoga poses. And she really knows her stuff, which is great for those of us in the room who don't because she's always there to offer you that little nudge or adjustment that takes a pose from "why?" to "wow!".
If you find yourself lacking in the physical exercise department and can't seem to find the workout that's right for you, I highly recommend you give yoga a try. And really give a try, at least for a couple of classes, since the more you do it, the more you'll take from it. I don't know any of the other classes in town, but my experience with Nova Yoga has been phenomenal, so I can certainly recommend you start there.
I know when my 18 class pass runs out, I'll be signing up for another one. Or maybe even one of the unlimited month pass options. The more I do yoga, the more I want to do it, so that may well be the direction I'm headed.
[Photo of Melanie Caines, from Nova Yoga's website, by Mark Bennett]