Our Community
TEACHERS
All of our teachers at Nova Yoga are Certified Yoga Teachers and graduates of Teacher Training Programs recognized by Yoga Alliance.  Our teachers are also certified and qualified to teach the styles of yoga, the workshops, and the programs they are offering.
NICKY ALLEN
Nicky 's love for Yoga started in the 1990's and has grown ever since. Moving to Newfoundland in
1997 she studied under a number of teachers and several different styles until she finally found her yoga home at Nova Yoga. 
As her children grew and circumstances changed, Nicky decided she wanted to get back to her passion for health and build on her Psychology and Counselling Qualifications. Training as a Life Coach with a Professor of Neuroscience (who was also a Yoga teacher) and a year long course in Positive Psychology at Kripalu Center for Yoga and Health, gently established Yoga and Meditation as part of Nicky's daily life. 
Her work in Corporate Wellness involved teaching people the evidence based benefits of Meditation and Yoga so it seemed a natural step to undertake a year long Yoga Teacher Training Course. 
Nicky sees Yoga as an important part of a healthy balanced life, as well as a tool for physical, mental and emotional wellness. She hopes to pass on some of these wonderful benefits through her teaching.
HOPE JAMIESON BAGGS
Hope has been a student of yoga for ten years, and completed her yoga teacher training with
Meaghan Burridge and Bobby Bessey, becoming a Certified Yoga Teacher in 2014, and has gone on to become certified in Core Strength Vinyasa Yoga, kids' yoga and prenatal yoga. She infuses her classes with a sense of balance gleaned from these different sources, providing challenge and cultivating peace. Hope fell in love with yoga's power to connect the mind, body and spirit for more joyful living, and is thrilled to be able to share this with the people around her.
---
ALICIA KATHLEEN BAILEY
Alicia Kathleen Bailey is a Certified Yoga Teacher and has always had the desire to inspire others to live a happy and loving lifestyle.  Yoga combines her love of teaching, inspiring both young and old, with an awareness of a healthy body, mind, and life.
Having practiced yoga for several years, Alicia brings her passion of the practice an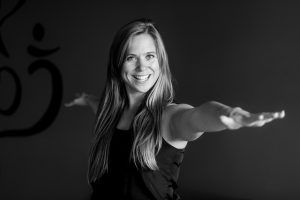 d creative spirit to each class.  After completing her 200 Hour Raja Yoga Teacher Training in Costa R
ica she returned home to Newfoundland in 2013.  Because her teacher training provided her with a balanced approach to yoga, exploring asana, Ayurveda, and spiritual and emotional well being, Alicia offers a holistic approach to yoga.  Her classes are the perfect environment for all ages and body types.
Through guidance that is both gradual and gentle, Alicia helps you to experience how the power of yoga works with all aspects of your being: physical, psychological, and spiritual.
---
EMILIE BROWNE
Emilie started practicing at Nova Yoga in June of 2012.  She has a background in sports and dance and has always had a love of building strength and flexibility in the body.  Emilie is also an Engineer and started practicing yoga to help counteract the physical and mental stress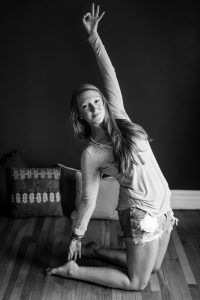 es of a desk-dwelling lifestyle; she quickly learned the physical benefits of the practice and was amazed at how much she learned about her
body that she never realized as an athlete or dancer. She also discovered how taking time for yourself, breathing, and being part of a loving community can improve all aspects of your life. 
Inspired by her awesome teacher, Melanie Caines, and her fellow Nova Yogis, Emilie completed her 200 hour Raja Yoga Teacher Training in Costa Rica in 2015, becoming a Certified Yoga Teacher.  In April of 2016 Emilie also completed 40 hours of Prenatal Yoga Teacher Training with Bobby Bessey in St. John's.
She is excited to share her love of having fun on the mat, treating your body by listening to its needs, and coming together as a community in kindness and joy.
Emilie spends her free time camping, hiking, gardening, dancing, and laughing.

---
HELENA BUTLER
After coming home to yoga a few years ago, Helena completed an inspiring RYT 200 course with Shakti Studios and an RYT 500 Advanced Yoga Teacher Training in Ayurveda, the Energy of Yoga and Yoga Therapeutics with Satori Yoga and Healing. Helena continues her studies towards a Professional Yoga Therapist designation with Integrative Yoga Therapy, accredited member of the International Association of Yoga Therapy (IYAT). Helena currently holds E-RYT 200, RYT 500 and IYT 500 and is a Yoga Alliance Continuing Education Provider.
Helena believes in the transformative healing benefits of yoga. Helena ha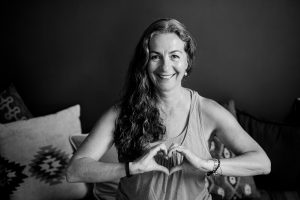 s a passion for the peaceful, balance of the ancient practice of yoga. She considers teaching a privilege and designs her classes with metta (loving kindness) to be accessible and enjoyable to all.
Helena also holds certificates in Thai Yoga Massage Level 3 (Lotus Palm Institute/Sivananda Vedanta center), Core Strength Vinyasa, Yin Yoga, Restorative Yoga, Relax and Renew Trainer, Reiki Master, Chair Yoga, Prenatal Yoga, Children's Yoga with Karma Kids of NewYork, Neurogenic Yoga, (Trauma Healing and Stress Reduction), Somatics, Therapeutic Ball work and Functional Yoga Advanced Assessment, and Aromatherapy in process. In addition she has completed workshops in Detoxification, and Yoga Therapeutics at Shakti Studios as well as Anusara workshops with Robin Golt and Barrie Riseman of Shri Yoga Center in Montreal.
---
TERESA BUTLER
From living with the Masai in Africa, to climbing solo to Base Camp Everest in Nepal, to leading a dance parade in Rio, Brazil during Carnival, to planting trees in an Eco-commune in India, to
summiting Kilimanjaro then jumping out of a plane only hours after the 8day trek, Teresa truly embraces life to the fullest! Her bohemian ways and wanderlust thirst has now taken her to a place where she has truly found everything she has been searching for across the globe, and it was right under her feet, being on her yoga mat. In 2011 she signed up for her first intro yoga class at Nova Yoga, where Melanie Caines inspired her yoga fever beyond words!  Teresa holds a BA in English Literature from MUN, but she had a calling to move to Vancouver, BC in 2010 to become a Certified Nutrition Practitioner and a birth/post partum Doula. She is deeply passionate about empowering women into having conscious births and in 2012 she travelled to LA to do her prenatal yoga training at Golden Bridge Studio. To further her birthing knowledge and skills she became a Sacred Pregnancy Instructor in Golden, BC. In 2014 she became a Certified Yoga Teacher,  completing her 220hr Kundalini Yoga Teacher Training because it was this style of yoga that truly transformed her life and her spiritual journey. It was the only true yoga that could harness her wild, ferocious energy and tap into a greater bliss beyond anything she's ever consciously felt before. Her mission is now to share all she has learned and experienced through this ego-shattering, soul empowering and life changing yoga that builds a nervous system of steel!
---
KELLY BURSEY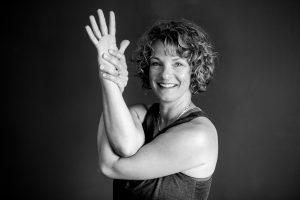 Kelly fell in love with yoga in 2006 the first time she stepped on her mat. She never imagined that yoga would become a daily part of her life and take her by the hand through challenging moments, coming out the other end a stronger person. She has practiced many styles of Hatha yoga, including: Ashtanga, Kundalini, Yin, and Anusara.  She is a Certified Yoga Teacher, having completed a 200Hr Teacher Training in December 2012, and looks froward to continuing her studies of yoga through upcoming workshops. Kelly is excited to be sharing her love of yoga with as many people as possible so that they can connect with their inner selves and explore their true potential.
---
MELANIE CAINES
Melanie Caines is a Certified Yoga Teacher and the owner/operator of Nova Yoga.  She has a strong passion for movement and teaches multi-level Vinyasa (Flow) Yoga classes infused with spirit, laughter, sweat, and creativity.  She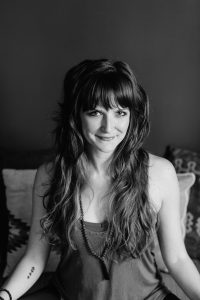 completed her 200Hr Yoga Teacher Training in Vinyasa (Flow) Yoga at Sonic Yoga in New York City in 2008 and has also started her Prana Flow journey with Vinyasa/Flow goddess Shiva Rea; Melanie's love of learning, exploration, and travel leads her to various places in search of workshops, training, adventures, and inspiration.  Melanie has also completed Divine Sleep Yoga Nidra® Training (led by Jennifer Reis), Prenatal Yoga Training (led by Janice Clarfield), and Karma Kids Yoga Training.
Melanie is the host of three seasons of The Nova Yoga Show on Rogers TV.   She has also released a yoga DVD called Nova Yoga Flow, filmed in beautiful Newfoundland and Labrador.  Her online yoga series, called The Go Flow Sessions, is available on Vimeo.  Her latest project, Move with Melanie, a membership site for yoga videos online is now live: check out www.melaniecaines.com!  Melanie loves to travel and leads delicious and exciting international yoga retreats in Costa Rica, Cuba, Mexico, Hawaii, and Europe.
Melanie was nominated for the 2017 YWCA Women of Distinction Awards and the 2017 Canada Top 40 Under 40 Awards.  She was named a finalist for the 2016 RBC Canadian Women Entrepreneur Awards and was named a finalist for the EY Entrepreneur Of The Year™ 2015 Awards.  Melanie won the 2012 Start Up Business of the Year Award from NLOWE (Newfoundland and Labrador Organization of Women Entrepreneurs) and Nova Yoga was voted Best Yoga Studio two years in a row by The Scope readers.
Melanie is also an actor and has performed in theatres and festivals in Australia, Scotland, England, Ireland, and all across Canada.  She graduated from the B.F.A. (Acting) Theatre program at Memorial University of Newfoundland's Sir Wilfred Grenfell College in Corner Brook, which is also her hometown.  Melanie performed in the critically acclaimed play Tempting Providence for 8 years and other favorite projects include the 2010 Governor General Award winning play AfterImage by Robert Chafe and CBC's The Republic of Doyle.
---
SUSAN DAY
Susan's yoga practice changed her life and believes yoga can benefit every body and soul.  Finding space through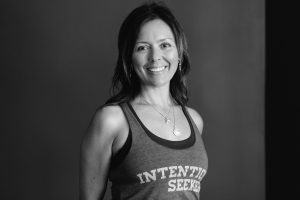 movement, breath and meditation on the mat has translated into a calmer more positive approach to life off the mat – something that everyone around her benefits from!
Susan has been practicing yoga since the late 1990s but fell in love with vinyasa flow when she found Melanie Caines and Nova Yoga.  Inspired by her teachers and fellow yogis Susan's yoga journey took her to New York City where she completed her 200 Hour Teacher Training at Sonic Yoga in 2012. Since then Susan has completed additional training in Yoga for Athletes and is a certified Yin Yoga teacher. She has also studied online with Rolf Gates and Christina Sell.
Susan comes from the corporate world and for years wondered how she could make a difference in this fast paced and often stressful environment. In addition to teaching at Nova Yoga, Susan brings yoga into the office through her company The Office Yogi.
Susan is a fresh air junkie who loves running, hiking, gardening and traveling.  She is extremely grateful for the opportunity to live her yoga and share it with others.
---
KRYSTLE HAYDEN
Krystle officially started practicing yoga in 2005 however, unofficially and unknow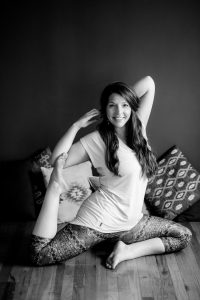 ingly, she has been practicing in many ways throughout her life.  She completed her 200Hr Vinyasa (Flow) Yoga Teacher Training at Sonic Yoga in New York City and became a Certified Yoga Teacher in February 2013 after being inspired by her local teacher, Melanie Caines.  Being a DJ and a dancer for many years, Krystle connected to Vinyasa yoga because of its similarities to music and dance with its fluid style; she infuses her classes with this love of music and movement.  Krystle is also Core Strength Vinyasa Certified through founder Sadie Nardini , holds a Visual Arts Degree from Sir Wilfred Grenfell College, and has been an electronic music DJ for almost 10 years.
Click the link to find Krystle's live Nova Yoga mixes: www.soundcloud.com/krystlemarie

RYAN MARTIN
Ryan is a 500 hour Registered Yoga Teacher (Yoga Alliance). He has been a meditation practitioner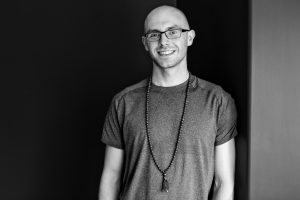 for over 12 years and a practicing yogi for over 7 years. In addition to his yoga studies, Ryan has a Bachelor of Engineering degree from Memorial University of Newfoundland.
In his Hatha Yoga classes, Ryan teaches a meditative flow of asanas with an emphasis on safety and breathing. His Yin Yoga classes are a slow, quiet practice based on mindfulness and stillness.
---
TRACEY MILLS
Tracey has been a student of yoga for close to twenty years. Over that time she has tried many styles
ranging from Sivananda, Iyengar, Vinyasa Flow, Restorative and Yin. In 2016, she became a Certified Yoga Teacher in Hatha Yoga, studying with Bobby Bessey and Meaghan Burridge, and a Certified Yoga Teacher in Yin Yoga, studying with Stephanie Calhoun of Satori Yoga. The benefits of yoga for Tracey are far reaching on all levels; physically she enjoys stretching and toning the body, mentally she is indebted to the peace and space it has helped create in her mind, and spiritually it has helped connect her with something bigger than herself. Tracey most enjoys the slow moving practices and the quiet meditative quality of Yin Yoga. She truly believes in honouring yourself with kindness in your yoga practice; when you make the time to breathe and fully inhabit the body, a truly wonderful transformation can take place – this is when you can really start living your yoga. She looks forward to practicing with the lovely students of Nova Yoga and learning from her fellow teachers at the studio. She is excited to be a part of this vibrant yogic community.   
---
ELEANOR POWER
Eleanor was never an athlete, was always a C Gym student, and was dragged to her very first yoga class by her younger, wiser sister in 2007.  She immediately realized that this was different than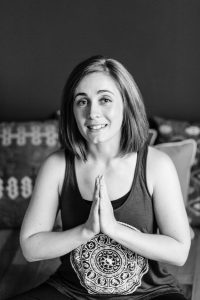 any other exercise that she had ever tried.  It was love at first breath!  She was hooked and began attending Iyengar classes regularly.  She was amazed by the freedom and openness she began to feel in her body, and the clarity and spaciousness she began to feel in her mind. Yoga provided an opportunity to work at her own pace, to challenge herself, to build strength and confidence, to clear mental and emotional clutter, to heal old injuries, and to grow.  Yoga had given her so much that she began to feel the need to share these wonders, and so made the decision to pursue her first Teacher Training.  In St. John's, she had the privilege of learning from Bobby Bessey and Meaghan Burridge when she completed her Yoga Alliance registered 200 Hour Hatha Yoga Teacher Training, at Shakti Yoga Studio, in 2013.  This initial training, only wetted her appetite to study and practice more, so in 2014, she travelled to Toronto to the Sivananda Yoga Vendanta Centre to complete her 10 Hour Level 1 Kids Yoga Teacher Training.  This year, Eleanor had the pleasure of completing a 16 Hour Chair Yoga Teacher Training with Meaghan Burridge.  Most recently, she travelled with some of her favourite yoga teachers, to Montreal, to attend the 25 Hour Level 1 Relax and Renew Restorative Yoga Teacher Training with Judith Hanson Lasater.  She is honoured to have the chance to teach, and continue to learn, at Nova and looks forward to seeing you on the mat!
---
ALYSSA-JOY SPENCE
Alyssa-Joy is passionate about health and believes that yoga is instrumental in maintaining physical and mental health.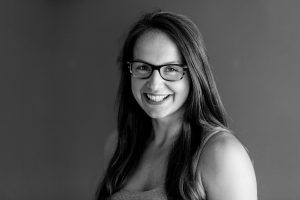 She began her yoga practice to improve her fitness and flexibility but quickly realized these were just a few of the benefits that yoga would bring to her life. Alyssa loves to challenge herself and her students and is always delighted to see how fun and rewarding challenges can be.
Alyssa is a Certified Yoga Teacher, having completed the RYT 200 course with Shakti Yoga Studio in 2012; she is also a Registered Massage Therapist, has her B.Sc. Kinesiology, and is currently completing her Masters in Kinesiology at Memorial University.
---
DANIELLE WHALEN
Danielle developed an interest in Yoga after beginning a management position with a yoga clothing store.  She began visiting different studios and trying different styles of the practice, but it wasn't until she took her first Vinyasa class at Nova Yoga that she knew she had found her passion.
Living with some chronic health issues, Danielle instantly resonated with the mind-body connection that yoga offers in comparison to other fitness programs. She wholeheartedly believes that yoga is way more than exercise – it's therapy, and BKS Iyengar said it best, "Yoga teaches us to cure what need not be endured and endure what cannot be cured."
Having recently completed her 200Hr Yoga Teacher Training at Sonic Yoga in NYC and becoming a Certified Yoga Teacher, Danielle is eager and excited to share her love of yoga with others. She looks forward to flowing and growing alongside her students & gaining inspiration from this new perspective as a teacher. She aspires to always bring three things with her to class; a warm smile, an open heart & a playful spirit.
---
SUB TEACHERS
CHANTAL BESON

Chantal first became interested in yoga while studying to become a Registered Massage Therapist in Halifax in 2009; she has been hooked on the amazing mental and physical benefits ever since!  Feeling light and free in the fall of 2014, Chantal combined her passion and love of yoga and massage and complete a Yogassage course; in August 2015 she took on her newest adventure and became a Certified Yoga Teacher, completing  her 200 hour Ashtanga Vinyasa Teacher Training in the beautiful island of Koh Phangan, Thailand.  Chantal is over the moon with excitement to be joining the amazing team at Nova Yoga, both as an aspiring student and as a free-spirited teacher bringing lots of light, love, energy, and a therapeutic massage touch to her classes.  She can't wait to see you on your mats!
---
DYLAN CAG
Although Dylan's professional background rests mainly in Design for Theatre, Film and TV (she
Graduated from the National Theatre School in 2003), Dylan has continued to be an avid outdoor adventurer, athlete, performer, artist and business woman. Yoga found Dylan about 10 years ago, and helped her recover from a serious illness that left her thinking she might never be able to lift a child or enjoy life again. And now, she climbs mountains. Dylan completed her yoga teacher training program (200 hr. Hatha and Soma Yoga) with Meranda Squires at the Lotus Centre, an amazing resource for conscious living right in the heart of beautiful downtown St. John's NL. Dylan continues to apply the philosophy of yoga in her everyday life on and off the mat, most recently travelling and studying sustainable building practices from the best in the world.
---
SUSAN HASKELL
Susan
was introduced to yoga in childhood.  She recalls laying on the floor alongside her Mom –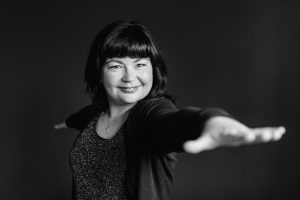 mimicking her every move, as directed by a leotard-clad instructor on the television.  Yup, she's a child of the 70's!
Susan
began practicing at Nova in 2012 when she first introduced her own daughter to yoga by attending parent and child classes.  Today,
Susan
is certified to instruct Soma Yoga, Hatha Yoga, Kids Yoga, and Restorative Yoga.  She plans to complete Yin Yoga certification in August 2016.  Beyond yoga,
Susan
enjoys family time, photography, hiking, and travel.  She is thrilled to share yoga as part of the amazing Nova Yoga family.
---
 KIM MACKAY
Kim Mackay teaches Hatha Vinyasa. Having discovered the benefits of yoga at Nova Yoga with
Melanie Caines in 2009, Kim took her practice to the next level and studied with Bobby Bessey and Meaghan Burridge at the Yoga Kula Co-op in St. John's, becoming a certified Yoga Alliance 200hr teacher in 2016. When she's not teaching yoga, she is a lawyer, mother, and outdoor enthusiast. Kim has taught yoga to rugby players and understands how yoga can help avoid injury.  She believes yoga is the key to finding our breath, calming our minds, and living in peace on and off the yoga mat.
---
MEGHAN SAMSON
Meghan's love affair with yoga began after her first class at Nova Yoga with Melanie in 2011.  Meghan was very active with sports and dance during her childhood and adolescence. Missing the active lifestyle of her youth, yoga became the outlet of her expression that filled this void.
Meghan's relationship with yoga continued to grow and her practice deepened to become much more than a physical workout.  Yoga became therapeutic during a particularly difficult time in her life, and she came to realize that she had never felt more at home or at peace than she does on her mat.
In June 2016, she travelled to Costa Rica to finally follow her dream of completing her 200hr teacher training, at Sadhana Yoga School.  Trained in both the Vinyasa Flow style that she loves so much as well as the gentler style of Hatha Yoga, she returned home full of excitement to continue to learn and grow on her journey as a teacher and (always) as a student.
Meghan is a bundle of positive energy with a thirst for adventure and travel. She hopes to spread the love and light that she found through yoga as she begins this new chapter of her life.
"See the light in others, and treat them as if that is all you see." – Dr. Wayne Dyer
---
ON-SITE MANAGER
JULIA BLOOMQUIST
Julia began her yoga journey in January 2016 by signing up for the 30 Day Challenge at Nova Yoga. Coming at a time of great transition after the recent sale of her business, The Sprout, she was empowered by the way her time on the mat allowed her to develop true peace with the unknown chapter ahead.
With experience in the development and operation of her restaurant for 11 years, managing a health food store, and being a mother to two busy boys, Julia is delighted to offer her skills and positive energy as the On-Site Manager at Nova Yoga. She is excited to continue learning from Melanie and her inspired staff, as well as contribute to the growth of the Nova family.
---
VIRTUAL MANAGER
ELAINE MANNING
Elaine re-discovered yoga in the fall of 2015, and quickly became engrained i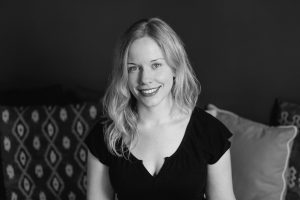 n the Nova Yoga community through a progression of yoga practice. Elaine started her journey with Beginner Workshops, and then jumped into a regular practice with a 30 Day Challenge. The 30 Day Challenge gave her the motivation to experiment with a variety of classes taught by different teachers, and the confidence to sign up for a retreat!
After experiencing a Nova Yoga Retreat to Costa Rica in February of 2016 (it was truly life-changing!), she learned how important yoga is for mental, emotional, spiritual and physical wellness – and she was hooked. Shortly after Costa Rica, the universe stepped in, the stars aligned, and the opportunity to help keep this amazing yoga studio viable presented itself. She now feels overwhelming gratitude to work alongside inspiring entrepreneur Melanie Caines, while surrounded by a community of Nova Yogis who are a wealth of expertise, compassion, love, and positivity.
Elaine is not a yoga teacher; as the VM she works online, managing the blissful group of Nova Yoga teachers, the scheduling of classes and workshops, and is the client/student's email and social media point of contact for information about studio policies, Class Passes, contracts, workshops, and more. Have a question? You can reach Elaine at novayogaoffice@gmail.com.