Teachers
Laura-Beth Power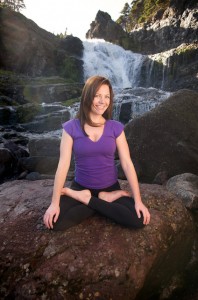 Laura-Beth Power (aka LB) loves all things yoga and firmly believes that yoga is a lifestyle to be practiced on and off the mat. LB first discovered yoga in 2005 and a few years later went on a retreat in Thailand; while on this retreat she discovered the depths a regular committed practice can take you, both physically and mentally. Upon her return she began to study with Meranda Squires at The Lotus Centre and has completed her 200hr Yoga Teacher Training, Meditation Teacher Training, Level 2 Yoga Philosophy, and Mind Clearing Level 1. LB has also had the opportunity to deepen her knowledge by traveling to the Halifax Yoga Conference in 2011, the Yoga Journal Conference in San Francisco in 2012, by attending workshops with Michael Stone, and whenever the opportunity arises on her travels she takes in classes of different styles. LB's background in dance has steered her personal practice towards the Vinyasa Flow variety, however, she has practiced Yin, Restorative, Ashtanga primary series, traditional Hatha, Partner, Power, and Detox yoga. In her spare time you can find her eating lunch at The Sprout, hiking, traveling, and dancing.
Robin Penney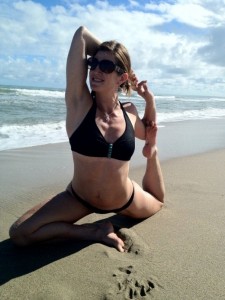 Robin is a Certified Yoga Teacher, and has been teaching since March 2011. Trained in the Anusara method, she teaches alignment-based vinyasa classes that are steeped in choreography and yet structured enough so that overworked brains know what's coming. Her classes feature solid alignment cues to find freedom and safety, and she provides sound, skillful adjustments. Strength building and core work are used to help students continually progress in their practice. She loves to use the asana practice as a training ground for exploring mental and emotional patterns and behaviors with the self and others off the mat. Robin also enjoys incorporating the rich traditions of yoga philosophy through story, mantra, and breath work. Her goal is to help every student feel happy, healthy, and inspired!
Cheryl Fenk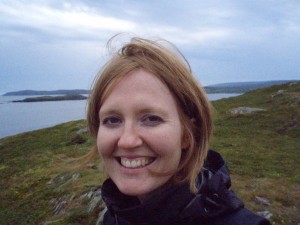 Cheryl is amazed at how even five minutes of moving and breathing on the mat can alter her view of the world. She completed the 200-hour Akhanda Yoga Teacher Training with World Conscious Yoga Family in 2008. This experience inspired her to seek more joy in her life – both on and off the mat. Around the same time she undertook the challenge of a silent 10-day Vipassana Meditation Retreat, which had a profound effect on both her yoga and her work in alternative health. Through Cheryl's teaching, regular meditation practice and daily walks with her dogs she strives to cultivate present moment awareness. The experience of teaching has made her deeply grateful for the opportunity to share the gifts of slowing down, becoming still and moving inward. Cheryl is the owner/operator of Embrace Wellness.
Susan Day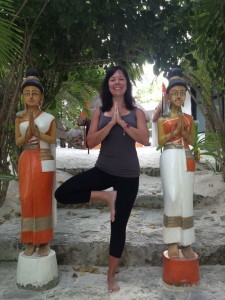 Susan truly believes that yoga can change your life. She has been amazed by how moving and breathing on the mat can translate into a calm and positive approach to life off the mat. Susan has been practicing yoga since the late 1990′s but really dove into her practice in 2010 when she fell in love with Vinyasa Flow at Nova Yoga. Inspired by her teachers and fellow yogis, she recently took her journey to New York City where she completed her 200Hr Vinyasa Teacher Training at Sonic Yoga.
Susan comes from the corporate world and for years wondered how she could make a difference in this fast paced and often stressful environment. Her goals is to bring yoga into the office and make it more accessible to those who most need time away from their desks and computers to breathe, move, and clear the mind.
Susan is also a fresh air junkie who loves hiking, running, and gardening and is filled with ideas for combining these pursuits with yoga. She is thrilled to be joining the Nova Yoga team; having the opportunity to share yoga with others is a dream come true!
Helena Butler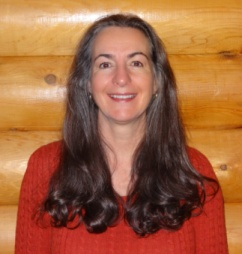 After coming home to yoga a few years ago, Helena completed an inspiring RYT course with Shakti Studios in 2012. She has been sharing her love of yoga teaching karma classes at the St. John's Farmer's market and at Shakti Studios. Through her own personal experiences, Helena believes in the transformative healing benefits of yoga. Helena has a passion for the peaceful, balance of the ancient practice of yoga. She considers teaching a privilege and designs her classes with metta (loving kindness) to be accessible and enjoyable to all.
Helena also holds certificates in Thai Yoga Massage (Lotus Palm Institute/Sivananda Vedanta center). In addition she has completed workshops in Restorative Yoga, Yin Yoga, Detoxification, and Yoga Therapeutics at Shakti Studios as well as Anusara workshops with Robin Golt and Barrie Riseman of Shri Yoga Center in Montreal. Helena continues her studies in Living Ayurveda.
Krystle Hayden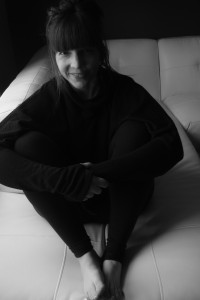 Krystle officially started practicing yoga in 2005 however, unofficially and unknowingly, she has been practicing in many ways throughout her life.  She completed her 200Hr Vinyasa (Flow) Yoga Teacher Training at Sonic Yoga in New York City in February 2013 after being inspired by her local teacher, Melanie Caines.  Being a DJ and a dancer for many years, Krystle connected to Vinyasa yoga because of its similarities to music and dance with its fluid style; she infuses her classes with this love of music and movement.  Krystle is also Core Strength Vinyasa Certified through founder Sadie Nardini , holds a Visual Arts Degree from Sir Wilfred Grenfell College, and has been an electronic music DJ for almost 10 years.
Click the link to find Krystle's live Nova Yoga mixes: www.soundcloud.com/krystlemarie
Kelly Bursey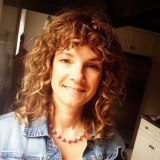 Kelly fell in love with yoga in 2006 the first time she stepped on her mat. She never imagined that yoga would become a daily part of her life and take her by the hand through challenging moments, coming out the other end a stronger person. She has practiced many styles of hatha yoga, including: Ashtanga, Kundalini, Yin and Anusara. She completed a 200 hour teacher training in December 2012 and looks froward to continuing her studies of yoga through upcoming workshops. Kelly is excited to be sharing her love of yoga with as many people as possible so that they can connect with their inner selves and explore their true potential.
Alicia Kathleen Bailey

Alicia Kathleen Bailey has always had the desire to inspire others to live a happy and loving lifestyle.  Yoga combines her love of teaching, inspiring both young and old, with an awareness of a healthy body, mind, and life.   
Having practiced yoga for several years, Alicia brings her passion of the practice and creative spirit to each class.  After completing her 200 Hour Raja Yoga Teacher Training in Costa Rica she returned home to Newfoundland in 2013.  Because her teacher training provided her with a balanced approach to yoga, exploring asana, Ayurveda, and spiritual and emotional well being, Alicia offers a holistic approack to yoga.  Her classes are the perfect environment for all ages and body types.
Through guidance that is both gradual and gentle, Alicia helps you to experience how the power of yoga works with all aspects of your being: physical, psychological, and spiritual.